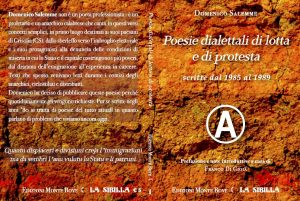 The book Poesie dialettali di lotta e di protesta – scritte dal 1985 al 1989 [Dialectal poems of struggle and protest – 1985 to 1989] by Domenico Salemme is available within the collection La Sibilla of Edizioni Monte Bove. Preface and introductory notes by Franco Di Gioia.
Domenico Salemme is no professional poet – he's a proletarian and an anarchist from Calabria who chants simple concepts in theses verses, mostly addressed to his fellow townspeople in Grisolia (Cosenza): from sneering at the election swindle and its protagonists to the denunciation of the conditions of misery which the State and capital force on the poorest, from the tragedy of migration to life in prison. Words that were often read, leafletted and handed out at outdoor anarchist talks. Domenico decided to publish the poems because people are always asking for them. Even if they were written in the 80s they are still totally topical because they talk about problems we still experience today.
«Quantu dispiaceri e divisiuni creja l'immigraziuni
ma da sembri l'anu vulutu lu Statu e li patruni»
[So much pain and division immigration creates
but the State and the bosses have always wanted it].
Edizioni Monte Bove ☾ La Sibilla
One copy: 5 euros.
For information and orders write to: lunanera[at]mortemale.org
Or send an e-mail to the editions: edizionimontebove[at]riseup.net
[Translated into English language by Act for freedom now!]